Wp Starter Guide – WordPress Tutorial: With a tutorial on how to create a website on your computer by using WordPress. Great guide for beginners.  This is great for you Bloggers.  While trying to work on sharing a message, a hobby, a political event or opinion.   Develop your Site.
The Ultimate Guide to Creating a Website With WordPress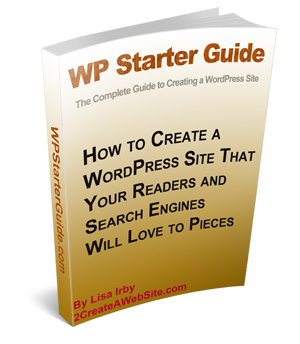 Getting fundamentals gives you a tremendous advantage, from start-up to advanced techniques.  Since most WordPress users struggle learning when it comes to creating a website.
WordPress was originally designed for news-oriented sites.  But because of its ease of use and flexibility, people are now using it to create all kinds of websites.
FACT: Not every WordPress site should be organized in a total blog format with only categories and posts.  Since WordPress is not just for blogs.
FACT: Too many users fail to make effective use of static landing pages.  While their important content and visitors  get lost in a sea of dated posts.
FACT: Traditional static website owners shy away from using WordPress.  Assuming their content can only be organized in reverse chronological order.
FACT: Existing WordPress users struggle linking pages to their menus, categories and posts as they desire.
The WP Starter Guide is the perfect starter guide for anyone new to WordPress.  As it shows how to make the best use of the dynamic and static functionality.   While organizing content logically for your visitors.
                            What Does The Guide Include?
– 116 pages (PDF) of up-to-date information on how to use WordPress to create a website. Great for beginners. (Instant download — requires Adobe Acrobat Reader to view).
– Tips on topic/keyword research, SEO (search engine optimization), promotion, plugins, making money, writing content.  And also doing layout, security and customizing common elements of your blog(header, style, sheet, etc.).
– An entire chapter dedicated to layout helping make your WordPress site easier to navigate. Thus using static pages and potentially improving search engine optimization.
– Instructions for adding/floating social media icons in your header.
– Discover how to easily add AdSense ads to your sidebar.
– With lots of colorful screenshots for illustration and easy reading.
– Help with using the WordPress Menu feature by creating drop-down navigation menus in seconds.
– People who want to learn how to use WordPress (for hosted sites, not the free WordPress.com version).
– Existing WordPress users struggling with layout, also site navigation, and WordPress basics.
WordPress How-To For Beginners.  Detailed instructions on how to use WordPress creating and managing your site. Use WordPress for both simple and complex websites.  Or do you want to start your own online store?
WordPress for Beginners.  First Steps With WordPress – Formats, Images, Links, more.
Designing Your WordPress Site.  Designing Headers – Color schemes, Menus, Fonts, more.
Lessons for Theme Development.  Creating Individual Pages – Designs and Layouts, Themes, Posts, more.
Website Development.  Validating a Website – Maintenance, Meta Tags, Search Engine Optimization, more.
To lead you through all the details involved in creating a website or blogsite WordPress explains each step.  Making a proper layout, page or post WordPress guides the entire process.  Explanations on grammer, sentence structure, headings help develop user friendliness.