Paint Color Cheat Sheets.  You won't have to wade through hundreds of paint colors anymore to find the right one to decorate your home.  Has eliminated all the wrong options and narrowed down the choices to only the best few.
Tired of choosing paint colors the hard way and paying for color mistakes?
Want a Faster and Easier way to find the right paint color?
This is a solution to help you find the right paint color for your home, easier and faster.
Tired of Choosing Paint Colors
the Hard Way and Paying for
Color Mistakes?
Want a Faster and Easier Way
to Find the Right Paint Color?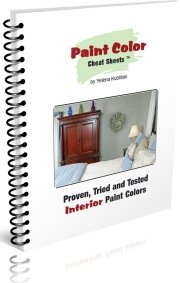 …then You Will
Love This Shortcut
to the "Right Answers"
in a Sherwin Williams
Paint Color Deck:
Shows you the best paint colors that always work
Proven, tried & tested in real life
As close to foolproof & no-fail as you can get
Gives you confidence & peace of mind
Eliminates overwhelm & helps get unstuck
Saves you time, money & sanity
Voted "designers' best kept secret"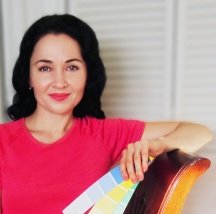 Hi, my name is Yelena Kublitski and I am the creator of the Paint Color Cheat Sheets™.  This is a solution to help you find the right paint color for your home, easier and faster.  It's a shortcut to the best, most popular, timeless Sherwin Williams paint colors that I have personally proven, tried and tested in real life.
I called it the Paint Color Cheat Sheets™ – with the idea that now you won't have to wade through hundreds or thousands of paint colors anymore, in order to find the right one.
I've done all the hard work for you, eliminated all the wrong options and narrowed down the choices to only the best few (like the "right answers" in a paint color deck).
In other words, the Paint Color Cheat Sheets™ are as close to fool proof and no-fail colors as you can get without days or weeks of choosing.
No more endless testing or second-guessing your choices. Simple. Fast. So you will spend less time choosing paint colors and more time actually enjoying them in your home.
Initially I was intending for my collection to be solely for my own personal use.
But then I started sharing it with our customers (my husband and I run a professional, full service house painting company and offer color consultations), and they all encouraged me to turn it into a "real" product and make it available to everyone who might need it.
Did you know that…
…Over 40% of All Paint Purchases Are Made
as a Result of an Original Color Mistake
Ouch. I know I've done my share of contributing to this statistics:
It took me 7 years of trial and error to compile this collection. I had to make a LOT of (costly) mistakes, waste thousands of dollars and go through hundreds and hundreds of paint colors, before I found the ones I could really call "foolproof".
Did you also know that…
…About 80% of All Paint Colors
Are Useless
That's right – most of the colors you see in a paint color deck will never make successful wall colors – because they are either too dark, too intense, or just plain wrong otherwise.
And it's not just my opinion.
In fact, all experienced professional decorators and color consultants have a "go-to" file that consists of a small number of colors they refer to again and again in their work.
Because you see…
…The Pros Know That Not All Paint Colors
Are Created Equal
For example, there are colors that look merely ok, some that always disappoint when they go up on the walls, and then there are foolproof colors that work in all homes and all situations, producing consistent, reliable results every time.
And those are the ones I've included in my Paint Color Cheat Sheets™.
"You Can't Go Wrong With These Colors"

Yelena Kublitski's Paint Color Cheat Sheets™ are a great tool that will save time, money and many headaches – because you simply can't go wrong using any of the colors suggested in her well-edited palette.  Her colors are nature-inspired: earthy reds and oranges, grayed blues, greens and purples with brown undertones – colors you'll often see in historical collections.

In addition to a well-edited palette of colors, she's provided a wealth of information in her bonus tutorials that will help you from start to finish.
Now You Have an Easier, More Efficient Wa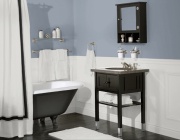 y
to Find the Right Paint Colors.  You won't have to re-invent the wheel and go through the same learning curve I did in order to figure out what colors really work. I've done all that for you.  I took all of my secrets, "go-to" color files and notes, and turned them into an easy-to-use, comprehensive resource that lets you find that perfect paint color in minutes – instead of days (or weeks).
It contains just enough colors to give you a healthy range of options, but yet not nearly enough to overwhelm you.
"It Takes a Lot of the Guess Work Out"
You'll Feel Confident and Choose Like a Pro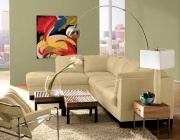 With the "Right Answers" in Your Hands.  With the Paint Color Cheat Sheets™, you will achieve designer quality results every time – because you will have in your hands the same colors that designers charge hundreds of dollars to recommend.  This will give you an almost unfair advantage over your friends – while they'll still be choosing, testing and experimenting, you'll be enjoying your beautiful home with your family!
You'll Find It So Easy,
It Will Almost Feel Like Cheating.
Have you ever picked a paint color that seemed perfect on a swatch, b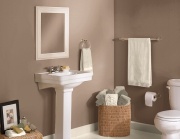 ut ugly on the walls? Maybe a "soothing" shade of green that turned out a mint toothpaste green, or a "cheerful" yellow that ended up looking so crazy it hurt the eyes?  Then you already know that a pretty paint chip doesn't always make a pretty wall color.
But with the Paint Color Cheat Sheets™ you will choose with confidence and rest assured that the colors you pick will be guaranteed to look great, with no surprises when applied to the walls – because I personally tested them all.
You Will Choose, Preview and Test Colors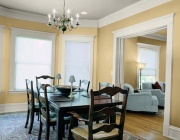 Without Leaving Your Home.  It's a totally new approach to choosing paint colors, where the entire process (picking, previewing and sampling the colors) is done in the comfort of your own home, from start to finish. You will only need to go to the paint store once – when you're ready to buy the paint.  The process is fast, easy and won't cost you anything – not even for the samples!
"What Yelena Has Come Up With
Should Eliminate a Lot of Testing."

Specific colors have been selected for rooms and even coordinating accent colors to go with them, to help you complete your design project.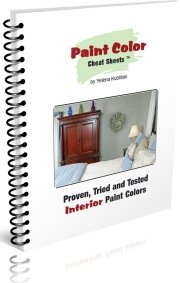 81 Timeless, Tasteful Sherwin Williams Colors
You will get the exact Sherwin Williams paint color names and codes for the best pastels, brights, earthy tones and jewel shades in every color family:
With these proven, tried and tested colors that always work, you will create and enhance any decorating style, mood or atmosphere – from traditional to contemporary, from bold and funky to tranquil and sophisticated… and everything in between.
You can buy these paints directly from Sherwin Williams, or any other professional paint store can match them for you, free of charge.
Clear and Concise Descriptions
You don't have to have a good eye for color or the ability to see color nuances and undertones, because I've done it all for you here, and described each color the way a color pro sees it.
Complementing Color Suggestions
You will get recommendations for complementing colors, and know what colors go with what, so you can mix, match and coordinate your decor with confidence.
Lighting and Placement Recommendations
The lighting in your home can "make or break" paint colors. So here you will learn what lighting conditions each of the colors needs to look its best.
That will help you decide if your room will actually lend itself to the color you have in mind.
Also, you will see which color is appropriate/in harmony with what room, so that there will be no conflict between the color and the room's function.
These charts are the condensed version of the Paint Color Cheat Sheets™ – so you can see all the colors at once. They are convenient to use and easy to print out for quick access.
Simple Instructions and Directions
Even though I've made everything as simple and intuitive as possible, I've also created this mini-guide to help you get the most out of the product.
It also includes tips and tricks of the trade, quick and easy fixes, and additional free resources for decorating with paint.
You Will Also Get All These
FREE Bonuses: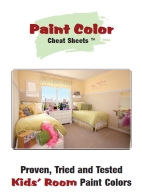 BONUS #1:  Paint Color Cheat Sheets™ for Kids' Rooms.  You will get 6 best paint colors that both your kids and you will love.  These colors are bright and livable at the same time. They are fun, happy and playful, but without going over the top. No one will have to compromise now.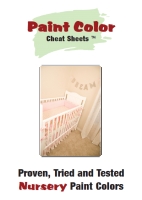 BONUS #2:  Paint Color Cheat Sheets™ for Nurseries.  Here you will find 6 best paint colors for babies' rooms.  These soft, soothing, delicious pastels will provide the perfect intensity of color to make your baby interested in his/her surroundings, but without over-stimulation.
BONUS #3:  Paint Color Cheat Sheets™ for Front Doors.  You will also receive 9 best colors for front doors – rich, deep and gorgeous jewel shades that will improve the curb appeal of your home, and produce a great first impression on your guests or potential buyers.
BONUS #4:  Recommended Resources
In this report, you will learn the industry insider tips and tricks to:
sample and test any color for FREE, without even leaving your home or picking up a paint brush
save up to 35% on all the paints, primers and tools you buy
preview/visualize how any color will look in your home before you commit
BONUS #5:  
Paint Color Schedule
This handy little sheet will allow you to plan your entire house painting project, and keep track of all the colors and finishes you decide to use in your home.
So when it comes time to go to the paint store or call your contractor, you will look and feel efficient and organized, and avoid silly mistakes.
This product is designed so that anyone who needs it can afford it – because a beautiful home shouldn't cost a fortune.
Paint Color Cheat Sheets are basically the source colors of a veteran in interior painting design: colors that can be combined at will, provided with information about the primer and lighting conditions they need.  After making over a thousand paint designs she noticed there were colors she used over and over again: they just proved to work well.  These stock of colors are the basic colors in the Cheat sheets: ninety paint colors representing all color groups, that give good results.  Some colors are only good for small accents or artificial light, while others were just added to make the fan deck look better. Good colors are the ones with the right tonality and undertones.
A paint color really is composed from different pigments and colors.  Undertones make a color lively and nice to have around.  Paint Color Cheat Sheets gives tips on what undertones to choose for your desired effect.  In the cheat sheets you'll find a full range of colors, that are safe and pleasant to look at for a longer time span. Good colors sustain your life on a basic, vegetative level.  There's not much text in the cheat sheets. There many color comparisons for visual perception indicating best combinations and depth tones.  But the information is highly valuable: paint colors that have proven themselves over the years, in real life.