Growing Plants with Technology is a bit more than raising houseplants or a garden.  However, the joy of growing plants has a fascination many thrive on achieving a release from tension.  Plants feed us, medicate us, beautify our surroundings and enhance our health.  Technology is bringing it to a higher level.
Growing Plants with Technology
The growth of a country always begins with establishing and building a food source.  This source determines the extent a civilization will develop and multiply.  Creating a food supply usually begins with growing gardens, farms and imported foods.  While infrastructure growth enables a greater percentage of the population to become occupied beyond raising or acquiring food.  About 2% of the US population is producing the food and fiber for the other 98%.
However, sprawling municipalities use prime agricultural soil for housing and commerce.  This has always happened as populations prosper.  Thus creating challenges in providing food and fiber for growing numbers of people.  But these same people also have a vested interest in promoting greater food sources to feed themselves.  However, this challenge must be met by creative thinking to utilize technology in growing plants.
Applied Technology
The art of growing food and fiber with applied technology.  Thus out of necessity new systems are invented.  Factory farms have become a reality.   Technology brought air travel and a space presence.  Which changed our focus on feeding our bodies with nutrition while enabling other exploits.  The possibility of raising food by growing plants without soil came to the fore as we entered space exploration.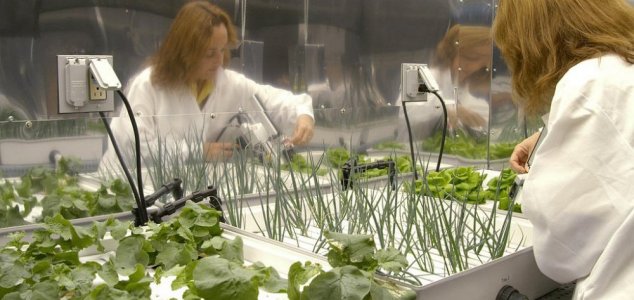 Water, Soil and Sunlight
Water, soil and sunlight are the natural necessities provided by the earth's make up.  While humanity has used these resources effectively over population demands greater production. With limited farming areas to feed larger numbers demands innovation in technology.
The need existed to have clean water for best use.  Science was challenged to determine chemically "clean" water.  Which pH levels and nutrient balances produced growth and reproduction.  Therefore lots of testing, experiments and trials were conducted over time.  While the hydroponic systems apply those findings to the basic water in a non-soil system.
Growing plants have always needed soil.  Soil is a medium for roots to support a plant.  While providing a reservoir for nutrients and water.  Plant roots take the soluble form of water and nutrients into the plant body thus building food and fiber.
Sunlight provides heat and color therapy causing cell division in growing plant cells. The individual colors of the rainbow each have a part in plant cell formation and growth.  By dissecting sunlight rays its effects on cell growth was determined.  Different colors enhance specific growth patterns in cell formation.  While daily hours of sunlight exposure also effect growth habits.
Technology Basics
There are basic technical elements that make a system functional.  The natural elements of water, temperature and sunlight must be part of the process of growing plants.  A seed or shoot brings life into the equation.  Nutrition enables cell expansion and division causing growth.   The reproduction cycle begins.  Food and fiber result!
Reservoir
A reservoir to hold the nutrient solution can take many forms.  Therefore a can, bottle, tank, aquarium can all perform as a reservoir to supply plant roots necessary refreshment.  Shape can depend on availability, cost and imagination.
Pump
Liquid must circulate to growing plant roots to provide life giving ingredients for cell
 division and fruiting.  Using gravity saves input power and is effective.  However, a pump is used in recirculating the nutrient solution.
Grow tubes, tanks, beds or some form of rooting medium and support mechanism enables growing plants to function as desired.  From primary to exotic, displays can be very functional to plant growth and artistic settings add to effect.  Usually utility wins out in shaping a system. Unit cost greatly influences design.
Basic Unit:
Complete 3″ x 32″  hydroponic system.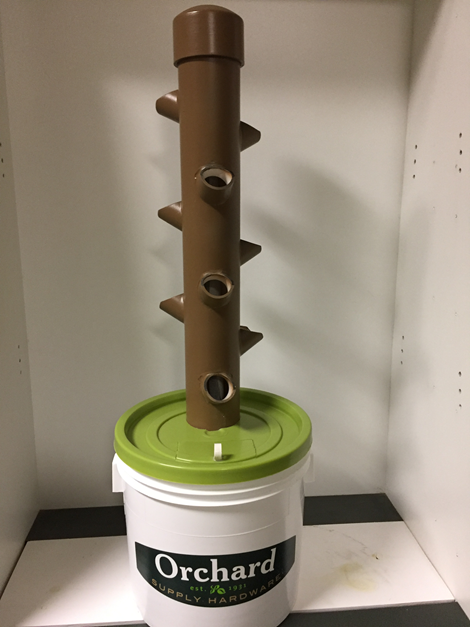 Let's consider growing plants with a simple hydroponic system for the home/apartment.  Thereby growing healthy food on our table.  However, initial cost and operating inputs must remain low.   While some educational benefit comes in watching and showing children the simple activities of plant growth and regeneration.  Family bonding benefits through a group project of this type.
This vertical tube system, built by La Asiid Holdings, does not leak, or dribble fluid. The liquid nutrient solution is held in the pail below covered by a tight fitted lid.  Inside the reservoir pail is a small submersible pump.  It is operated by a timer that determines watering interval.  Liquid is pumped up the 1/4″ tube to the top of the 32″ tower. The nutrient spills onto a wick wrapped around the outside of the 1/4″ tube.  While growing plants roots in contact with the saturated wick draw in nutrition and oxygenated water.
     A 3.5 gallon reservoir and tight fitting lid.  With a 3″ cap on top of the 32″ tower.  An 80 GPH pump setting in the reservoir.  The 1/4″ solution tubing connects pump to top of the tower.  A wetting wick encircles this solution tube which transfers nutrients to plant roots.  It is held in place by a supporting hanger bracket at the top of the tower.
       Standard color: White.  
              Price $264.99                                                                                
 
Accessories:
Tetra 77851 Whisper Air Pump
 The Whisper 10 Aquarium pump has a unique dome shape and sound dampening chamber.  While designed to minimize turbulence and produce a smooth, quiet stream of air. Its overall design works to eliminate sound producing vibrations.  
For use in 10-Gallon aquariums.  

Whisper air pumps provide reliable service at an economical cost.
Price $8.77                                                    
 
Rhinox Aerator Bubbler Set
  Rhinox Air Stone increases dissolved oxygen levels to provide good water circulation.  Connect Rhinox tubing to the stone and to an air pump and plug it in. The air stone immediately starts producing cascades of steady, consistent small bubbles while moving water across your reservoir.
Price $8.69                                                
General Hydroponics pH Control Kit
The drip pH test is very easy to use, accurate results delivered in seconds. The pH up and down solutions work really well too.  Strong solution, use only a very very small amount.  This product works well.
 Price $19.30                                            
Water Quality Tester
Accurate and Reliable.  HoneForest TDS Meter, EC Meter & Temperature Meter 3 in 1, 0-9990ppm.                                                                                                Ideal Water Test Meter for Drinking Water, Aquariums, etc.                             Auto-lock function.                                                                                             3 years warranty and 90 days money back guarantee.
Price $ 17.90                          
Nutrients and Fertilizer:
General Hydroponics Flora Grow, Bloom, Micro Combo Fertilizer Set.
 1 pint (Pack of 3) – Hardwater.
Flora Series is the original 3-part Building-Block Nutrient System.
                                                                                                         

 It contains all Primary, Secondary and Micro-nutrients necessary for balanced plant nutrition, while providing enhanced yields and superior crop quality.

These nutrients form a complete and balanced fertilizer.  Providing plants with everything required to build strong structures and big blooms. Flora Series is pH buffered.  If your tap water is over 200 ppm (or contains Calcium above 70 ppm), use Flora Micro® Hardwater.               If your water contains 30 to 50 ppm Calcium, mix our original Flora Micro® with Flora Micro® Hardwater.  Thus creating a perfect Micro blend for your plants.
 Price $ 27.88                         
Hydroponic Tea Concentrate – 1 Quart
 Derived from Dr. Earth's 5-5-5   All Purpose Fertilizer.
Certified Organic. 5-5-5 Formulation, 11 percent Humic Acid.
Total Nitrogen (N)  5%.  Available Phosphate (P2O5)  5%.  Soluble Potash (K2O)  5%.  Secondary ingredients: Fish bone meal,fish meal, alfalfa meal, feather meal, mined potassium sulfate, bat guano, kelp meal, soft rock phosphate, cottonseed meal, seaweed extract.
1 Quart Tea Concentrate  Price $ 5.00
                         
Find proven quality hydroponic supplies and components here at La-Asiid Holdings, LLC.  Your satisfaction is assured and backed by a 30 day money back commitment.