GateWay Church serves Christ by reaching out into the local community.   Through the sphere of influence of the members into the workplace.  Weekly sermons appear on the internet and can be experienced globally in your time zone.  GateWay Church also reaches physically into missions located in foreign countries being Christ's extended arm of love and hope.  People are important.
GATEWAY CHURCH
GateWay Church of Visalia has 140+ year history of impacting this beautiful area.  Dedicated to helping and enhancing lives in this community.  GateWay members take Christ's message into the workplace throughout the week.  Thus able to live and work enabling people by living example of our faith in Christ.
Whether you have
never been to church before, are returning to church after being away or just moved into town, we invite you to join us at any of our services.  At the right is the Sowell street entry to the newly completed Nursery and Gathering area.  It began use May 28, 2017 serving the babies and toddlers of our congregation.
Doctrinal Statement:
The Bible is the inspired Word of God and is without error.  It is our final authority in faith and life. We believe in one God who exists in three distinct persons:  Father, Son and Holy Spirit.  Man was created in God's image to have fellowship with Him, but became alienated in that relationship through sin, and as a result we need God's saving grace to end our alienation from Him.   Christ's death and resurrection provides the sole basis for the forgiveness of sin.  And this salvation is freely given to all who place their faith in Him.
At GateWay, we are committed to "empowering Christ-followers to engage a ready world with the hope and joy of Christ." This is a multi-generational, multi-ethnic church community.  The leadership is constantly striving for a DNA and culture that is unapologetically biblical.  We are enthusiastically welcoming members and new people so we can strategically grow as a church family.  All while meeting the needs of each other and the community around us.  Because the power of God is real and relevant.
Let us know how we can be an encouragement to you and God bless you this day as you maneuver the blessings and challenges of life!
To see current messages click below and go to About Us in the top bar and find messages.
What about my kids?
Kids are important to us and as a parent you need to be sure they are in a safe learning environment. As a kid you are looking for a fun place to learn. We make sure both of these goals are reached each week in our GateWay Kids program. We offer quality care for infants through 6th grade throughout the entire service.
Because we take security seriously, we will ask you to check your child in and out while attending our services.
What should I wear?
We're more concerned with meeting you and your real life needs than what you wear. So dress how you feel comfortable and you'll fit right in.
Be Who You Are 
The prevailing attitude of doing what you are good at, being who you are today.  And just letting Christ's love be visible in your daily activity by being YOU.  Sinners save by GRACE! 
To visit GateWay Church is a wonderful experience.  Graciously welcomed by  lay members glad to have you.  Listening to the music and singing along, having the words on a large screen overhead, keeps the meaning alive and fresh.  Listening to the pastors message that takes Bible passages from long ago and puts them into current experience.  The Scripture truths plug right into my life today!  WOW!  A great start of every week!
GATEWAY TEAM
At GateWay, the staff is committed to "empowering" Christ-followers to engage a ready world with the hope and joy of Christ.  We are enthusiastically welcoming visitors so we can strategically grow as a church family.  All while meeting the needs of each other and the community around us. We believe that GateWay Church needs to be a light in the community where we live.  Enabling and enhancing the lives of others because the power of God is real and relevant.
There are many opportunities for someone like you, whether it is for service, connection, growth, small groups, missions or leadership. Let us know how we can be an encouragement to you and God bless you this day as you maneuver the blessings and challenges of life!
ED KEMP
Senior Pastor
Dr. Ed Kemp serves as the Lead Pastor at GateWay Church. Ed became a follower of Jesus Christ at Parkside Chapel here in Visalia his Freshman year at the
College of the Sequoias. He has been married to Cindy for the last 36 years and they have 3 children.
   Ed's great goal is to teach the deep and meaningful truths of the Bible. Well, "So what?!" Why does that matter? Because God wants us to use those truths every day in a very practical way that benefit us.
Teaching Pastor
Ed grew up in the Visalia region and is excited about returning home to GateWay Church. Ed
 and Cindy met at COS here in Visalia and married after graduating. Ed went on to complete his bachelors degree at UCI, earned a Masters of Divinity degree from Talbot Theological Seminary and a Doctor of Ministries degree at Gordon Conwell Theological Seminary in Boston.  Ed is excited about being a part of the Pastoral Team at GateWay and serves as the Teaching Pastor.
The attendees at GateWay Church each week are lead through a passage of Scripture relating to Biblical events and times.  The ways of history as happened and understood in that time frame.  Looking at personalities and character traits of the times to see the effects of behavior.  Then taking those findings into a present day setting.  "So What?"  How can we grow in character and grace through Biblical events and character traits?  We can discover areas of our own lives that reveal similarities to empower us.
Choir & Orchestra Worship Arts.
GateWay Worship Arts team is an awesome place to use your gifting and talents to bring glory to the Lord.   It is our desire that God is glorified in all we do and our passion is celebrating Him with the whole family of God at GateWay services and events. Colossians 3:16 "Sing, sing your hearts out to God with thanksgiving…"  
Guy Gutherie leads the worship choir and orchestra each Sunday morning.  He is responsible for the music in worship and determines which songs are appropriate with the subject of the message context.  He coordinates musical events with the church leadership to make worship services meaningful to bring glory to our God.
Patty Gutherie assists Guy in the leadership of GateWay Church music.  Th
e orchestra and vocal involvements involve Patty's vocal as well as her instrumental talents.
Guy and Patty met while studying music at Cerritos College and have both benefited the music profession by their involvement with music in Christian Worship.  They are a team in function in GateWay services. They love what they do and their dedication to music is contagious.  The endless hours it takes to plan services, find appropriate music and the talent to put it all together enhancing people connecting to God's Glory.  Magnificent!
CHILDREN'S MINISTRIES  
Jen Fulk directs the Children's Ministeries at Gateway Visalia.  She designs and staffs programs and activities involving infants, nursery, toddlers, thru grade six
.  Great care is exercised to keep your kids safe while attending Gateway.  All for your peace of mind while you worship our Savior and Lord.
 BECOMING BETTER and SERVING
MOPS/MOMS next groups are communities that strive to meet the needs of every mom with children from birth through High School. MOPS recognizes that stay-at-home and working moms all share a similar desire to be the very best moms they can be.
MOPS/MOMS next, a ministry to mothers of K-12, provides an open, caring, and accepting atmosphere where women can come together to share this important season of life.  An accepting place for all mothers of school-age kids to come, just as they are, to experience authentic community, personal growth, practical help and spiritual hope.  During MOPS/MOMS next meetings, children are cared for in a program called MOPPETS, where they experience love in a preschool-like setting.
No matter the age of your children, our meetings are designed to encourage, equip and develop you into the best mom you can be!
Activities
MOPS/MOMS next, along with Bible studies, does projects that reach out to people in need of help in various ways.  In 2017 an outreach program will focus on making life in Uganda, Africa more bearable for victims of a pest affecting millions of children and adults as well.  Jiggers!
Why jiggers?  To help understand it may be helpful to be aware of the pest and its function.
What are Jiggers?
Jiggers are small sand fleas that are found in Sub Saharan climates, and are most prominent during the dry season. The jiggers are parasitic burrowers and are also known as Chigoe fleas or Tunga penetrans.
The parasite lives in soil and sand but feeds on warm-blooded hosts, i.e. animals and humans. In humans, the parasites may burrow in the hands or feet.
Jiggers live in soil and sand. Therefore, most people that get attacked by the fleas are those in rural areas.  It is estimated that over 1.4 million people are affected by jiggers.
Characteristics
Since the characteristic of the flea is to burrow itself into the feet or hands.  Means people who do not have shoes and living in rural areas are most likely to be affected.  The people in rural areas live in poverty and cannot afford shoes. Moreover, majority of them live in huts with soil floors. The soil floors provide a place for the jiggers to live.  And when they are ready to lay eggs, they find a host in the inhabitants that don't wear shoes while at the home.
As you can see in the picture below, the foot is full of jiggers. The parasites mostly burrow into the feet because they are poor jumpers, unlike most fleas.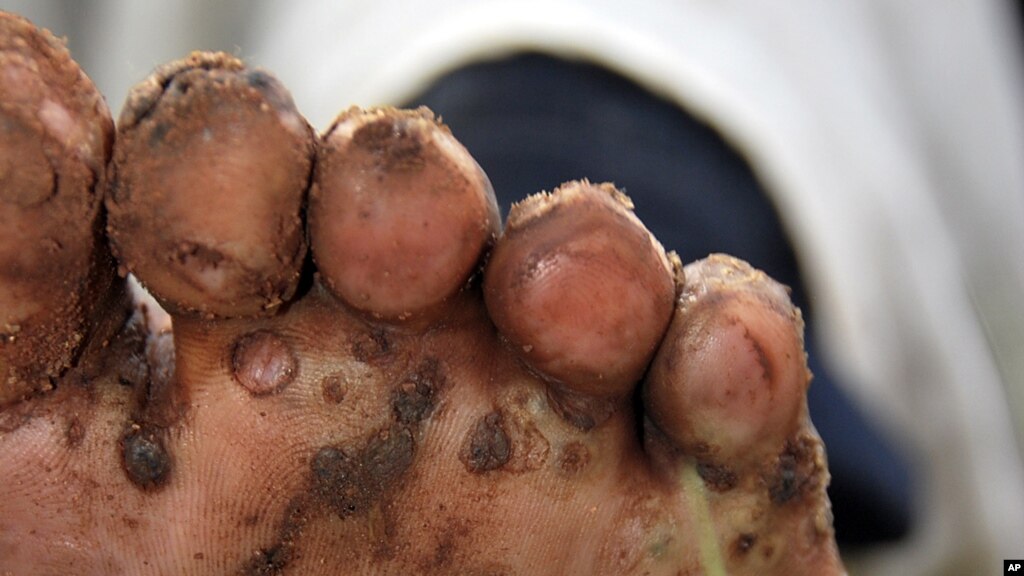 When the female is ready to lay eggs, it will bury itself, head first into the host (human or animal.). For humans, the jigger usually looks for soft exposed skin like the areas between the fingers and toes. The jigger will stay under the skin sucking blood from the host until the eggs are fully developed.
In about two weeks, the eggs will have fully developed and when ready, they will be dropped out in the same hole that the female flea entered. The female lays about 100-200 eggs at one cycle.
Therefore, while a single female jigger may burrow itself in a person initially, the person can end up with hundreds of jiggers within a few weeks, as the newly-hatched fleas attack.
Do Jiggers Cause Pain?
When the jiggers burrow in a victim's flesh initially, little to no pain is experience. Hence, victims rarely know they are infected by jiggers from the onset. However, the jiggers soon start growing, and the area where they are becomes very painful.
Generally, the area will swell and experience a general coldness. Apart from this, the person may experience weakness and sore joints. Victims that have been infected with jiggers on the feet find it very painful when walking. The majority resort to walking on their heels due to the pain experienced in between the toes.
In severe cause, children victims may suffer from anemia since the jiggers feed on their blood. There are other health issues that develop from this weakened state in the children.
But jiggers do not just bring health problems.  They can also lead to other social and economic problems for the victims. For example, children may be unable to go to school and adults may be unable to work. In some communities, there is stigmitizaton against jigger victims, which can lead to neglect and self esteem issues.
SOLEHOPE. CREATING SHOES FROM DENIM
Even the best jeans need to retire eventually.  The DENIM is cut out to a pattern to make the upper part of the shoe. Your cut out DENIM shoe uppers will be collected and shipped to Uganda. Those carefully cut uppers get assembled here by a team of tailors.  Each stitch is done with pride.  While each tailor earns a living wage and builds a valuable skill set.  The shoe makers take the stitched uppers and form them around molds, attaching soles made from reused tires.  Each shoe upper takes two days and many careful steps to become a fully formed shoe.  All from recycled materials.
Shoes to Final Users
Our staff and volunteers team up every week and head out into the community visiting schools and villages.  Where we wash each and every foot carefully, greeting the patients, learning their names, sharing smiles.  After foot washing, each patient has his or her feet thoroughly checked for jiggers, and each one is gently removed.
Children who hobbled and limped to the clinic find joy in walking again, playing football, running, and laughing.  Each patient who is now jigger free receives a pair of shoes that perfectly fit his or her feet.  All ten toes fit safely inside, away from the reach of jiggers and other parasites.
Education and Hope
Along with good hygiene, this pair of shoes can drastically change a child's present and future circumstances.  Perhaps the most important step in learning how to live jigger free is education.  Each and every patient that receives a pair of sole hope shoes is individually taught about jiggers.  They learn where they come from, how they should be treated, and how to live life jigger free.
Our full time educators are working to change social stigma and teach life skills and ideas that will change Uganda's future, two feet at a time.   Students that had been unable to go to school re-enroll in classes.  Parents that couldn't walk can begin to take care of their families again.
Do you have access to DENIM that you don't use or need any longer?  GateWay Church of Visalia has the MOPS/MOM's next program that is cutting out patterns for these shoes.  To mail DENIM for this project send to GateWay Church of Visalia, Ca. 93277.