Eulogy of John T. Suderman
 John loved ice cream.  Hand cranked home made ice cream was the best!   Spring, Summer, Fall-just bring me seconds!   During his 104 years of life Homemade was a GIVEN!  Everything was homemade because you COULD NOT buy anything!   There was no money!   Everything was done from scratch!  He often said that if you put Mom's homemade whipped cream on a 2×4 board it would taste good.
This is about John's long life so some things will be left out.  But today some
of what made his life memorable are of interest.  Some people need a glimpse of his journey from farming with a team of horses to seeing men walk on the moon.  Farming with laser beams and computers.  Self steering tractors and mechanical harvesting of all kinds. Machines doing things that only human hands could do before.   He hauled loose hay loaded with a pitch fork onto a horse drawn wagon working from dawn to dark.  And now it is done by one person in an air-conditioned cab at 4-6 miles-per-hour doing 30-40 acres a day.
John's Early Life
John was born to Herman Suderman and Katherine Harms Suderman on a farm between Sanger and Reedley in 1912 to a rural lifestyle.    John knew little about his birth father, Herman Suderman, who died of appendicitis in 1913.  Leaving Katherine and John (about 1 year old) alone.  William W. Thiesen and Katherine Suderman were married and John became W.W. Thiesen's step-son.  They settled into a farm West of Dinuba on Road 56 and Avenue 408 on what John referred to as "the home place".  There he grew up with the Thiesens.  David, Albert, Edwin, Ruby and Annie.
Farm Upbringing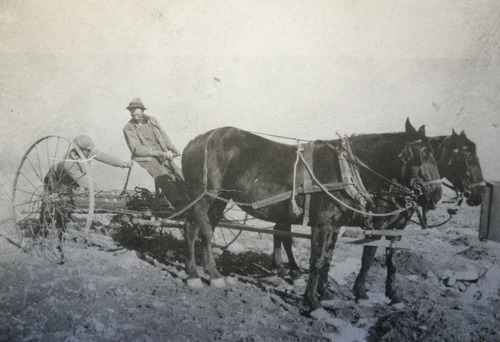 John talked about their farm animals some.  He would rise early, 4 AM to feed the team of horses.  While they ate he would have his breakfast.  Upon finishing eating he would harness the team to the wagon and haul hay.  Ice cream sure hit the spot after loading hay in the hot sun.  
One of the team was balky every morning getting started so John put the pitch fork down to touch that horse's flank when it balked and the horse got the point.  John felt bad about that cause he didn't want to hurt it, just move it along.  The story never revealed the depth of the "point."
They had "6 foot" cats.  That was the length of Katherine's broom handle.  Cats were not allowed under her feet!  The Thiesen family had much hardship in those Depression years.  A couple cows provided milk, butter and dairy products. Some hogs for household scrap consumption and meat.   Chickens supplied eggs and meat.  Horses and mules did the heavy farm pulling.  John never spoke of machinery during those days.  A tractor undoubtedly came along at some time.  A truck and car did enhance life because John's oldest son, Bob, put sand in a gas tank on the Thiesen car making W. W. less than happy!
John talked of a year when the raisin grapes were ready to harvest and money didn't exist to get drying trays for the harvest.  So Dad Thiesen got newspapers and the grapes were laid on them to dry.  The newspapers rotted under the grapes and the entire crop was lost.
These were John's early beginnings.  How did he get from there to here?  Frankly, heaven only knows!
John finds Wife in Los Angeles
John went to National Schools in Los Angeles to learn radio repair.  He repaired welders in the ship yards constructing WWII war ships.  On October 4, 1936 John and Tink (Catherine)Hiebert married.  Somewhere around this time there was Shafter and a radio repair shop.  Bob and Tom were born there and this sequence is hazy.
They came back to Dinuba to a 30 acre farm Dad Thiesen landed to help get John and his young bride a start.  John helped his dad with farm work but needed to earn more than the farm could provide.  Bill and Nancy were born sometime after John and Tink lived in Dinuba.
Becomes Electrical Contractor
John was doing residential electrical work and was encouraged to get his Electrical Contractors License and did so.  He purchased a green International pickup and had Fred Wiest build steel tool boxes on each side of the bed so his tools could be protected.  This pickup had SUDERMAN ELECTRIC signs on the doors.  Someone put a tail on the "D" to make it a "P" and John didn't notice it for quite some time before removing it.  To much ice cream.
Then he went into Residential and Commercial electrical jobs. In 1949-51 he did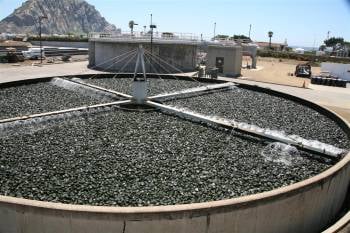 some maintenance electrical work on the Central Valley Project – The  
 Friant-Kern Canal.  He did City Waste Water Treatment Plants for Chowchila and Visalia cities.  His wiring talent was put to use on the Reedley Mennonite Church, Immanuel High School and Hume Lake Christian Campground.  He also did work at Reedley High School and wired apartment buildings and many residential homes in the area.  John replaced expired safety lights on top of the KRDU radio antenna tower.
John Beyond Provider Role
One day John brought home a Red Irish Setter dog with 9 baby puppies for his kids to raise.  
The dog had puppies on a job site John was working.  Wow!  John enjoyed fishing very much, although he wasn't able to go nearly as often as he would have liked.  Deep Sea was the greatest!  Guadalupe Islands off the Mexican Coast was his trip of a lifetime.  Was at sea for an entire week fishing in warm, calm waters.  He brought home Yellowtail,
Barracuda that filled the deep freeze.
This was conversation lasting for years.  And that huge Hammerhead Shark that was brought on board because it chased all game fish away. WOW!  His young boys were big eyed listening to that story.
In the 1950's John and Tink, under the encouragement of the Rev. John E. Friesen, pastor of Dinuba Mennonite Church, started the Jet Cadet 4-6 grade youth program.  It drew youngsters from the church membership and also brought town kids into the activities.  That ministry to that age group is still going today.
Expanding Farm Operations
As John progressed with his life journey he was accumulating farm property little by little to
finally go back to his roots.  Raisins were a crop that was fairly easy to grow while still doing electrical jobs so he focused on that crop.  And needed to eat some cool fresh ice cream after rolling trays.  Then in 1965 Tom got out of college and began farming full time.  Slowly the farm began to take on a different luster.  The work began to take less effort from John directly.  He ceased doing electrical work and began farming full time.
Additional properties were acquired.  As well as new crops and more equipment.  Increasing production demanded more labor. Changed cropping patterns emerged.  Fresh vegetables became a part of the program.   Purchasing vegetable transplants became to costly.  A greenhouse was constructed to raise our own transplants.  Growing and Harvesting labor was needed.  Different equipment.   Packing products for market became evident.  More machinery.
Permanent Crops
Then permanent crops became a more stable crop than the volatile fresh vegetable production operation.  Peaches, Plums, Nectarines and raisins took over the focus of the farming venture.  Fruit packing equipment was added to handle the fruit harvest.  Operations continued to grow as the fruit industry was experiencing an oversupply.
Fruit prices began shrinking while cost of production was increasing causing the industry to falter.  Very difficult times lay ahead of most fruit
farming operations as growers had to liquidate to service debt.  Farm life was coming to an end.  Somehow let's think of a large banana split to cool our mouths realizing that life still goes forward.   And John is in a glorious place and he can hear and can see his family that went ahead of him.
John's Fears Motivated Him
John and his generation grew up during times that were so hard that that generation determined to distance themselves from it as far as possible.  There was no place to go for help.  Except inside themselves finding character to overcome.  John worked and fine tuned his time to maximize every waking moment into productivity.  He found ways to accomplish without resources.  "You have to figure it out!"  And in so doing John took some incredible risks and found solutions to challenges.
His generation built Heartland and Hume Lake Campgrounds, Immanuel High School, Dinuba, Reedley and Zion Churches, Kings View Homes, Tabor and Pacific Universities, Palm Village Retirement Village. And that is just a small part we see close to us.
Missionary work at home and worldwide.  What a GRAND legacy!
The last time John's whole family was present celebrating 2004 New Years entrance.  Pictured are left to right; Nancy, Bill, Tink, John, Bob and Tom. Had a festive time laughing and talking together.  Probably had ice cream treat with cupcakes and beverages.
The kind staff at Palm Village Retirement Home in Reedley, California took great care of John till the end.  "Grandpa finally got promoted!", according to Great Grandson Rob Suderman.   On February 17,2017 John went to be with his Lord in eternity.
Memories shared about John:
Bill Suderman:
My fondest memories are of family in the high Sierra Nevada mountains.  Heartland, staying in Grandpa Thiesen's cabin.  Staying in a house trailer at Hume Lake Christian campgrounds while Dad did electrical work there.  And Big Meadows with other church families to enjoy mosquitoes and smoky fires, hikes and fishing.   Was there ice cream?
At an early age, I learned of the magnificence of God by walking among those enormous trees reaching to the heavens.  And a pack trip with Dad and us 3 boys, with a pack mule to carry the load (I was too small to carry a proper backpack).  An exciting moment  when that mule, pack and all, decided to roll in a creek we were crossing.  But Dad rescued the mule, the pack and us.  He grew up with them critters and knew their language.
Valuable Lessons
One of the most valuable lessons Dad taught us was how to work.  Dad tolerated a lot of goofing off, but as we grew older we learned.  Our vineyards had Johnson grass and Bermuda grass.  Our job was to dig it all out with shovels and hoes.   As if digging it out weren't hard enough, we had to give "evening reports" at the supper table each night.  Then we got to justify why so little got done.  After a while, we found that it was easier to get the grass dug out than to explain why it was not.  So along with a strong work ethic, we developed a strong sense of personal responsibility reinforced with truth.
We grew up going to church regularly and Dad and Mom were always involved in some way or another.
Again, Dad, thank you so much for giving us so much.
Love,  Your youngest son, Bill  (read more in the hard copy).
Nancy Suderman:
Cowboy Dad/Grandpa,
Invited Dad to going cattle branding with me the next day. Picked him up at
5:00 a.m.
He asked if I had a horse for him to ride, too. I didn't, but I had a fence he could sit on. However, I wouldn't be riding the day he comes, because the 2 days before, we gathered all the cows and calves, and 10 massive bulls. He asked what he needs to wear. Hat and boots are appropriate. Well, okay, so, he did that, his Hawaiian tourist hat and the boots.  But with his P.V. kakais suit. He wore his kakais everywhere after Mom died, cuz he couldn't dress himself in a fashionable style, and she wasn't at PV to help.
 The cattle were all waiting for their division and processing, to get loaded on the cattle trucks, for the winter, in Oregon.  The bulls in one pen, and cows with new calves in a separate pen, larger calves, separate, too. There were around 300 head collectively…..(see hard copy printout for the rest of the days fun!).  Nancy Suderman
 The memories I have are mainly of Christmases spent with relatives – all us cousins getting to know each other again – rather noisily – in Grandpa and Grandma's quiet house –
Two summers working at Suderman Farms. I knew that Grandpa was not sure about hiring a city kid to do farm work – and I worked harder than I ever had before to make sure not to disappoint him. 
I've attached a photo of Grandpa with all us Cherkenduses on his lap.  The memory I carry
Thanks, Keith.
Brenda Dahl,
My memories add to Keith's… Cherkenduses!  That name brings back a flood of memories.  After we sat on grandpa and he tickled us mercilessly, then he would open up his special cupboard and share a treat with us.  Yum!  While in California grandpa let us build cities out of the mud near the driveway complete with swimming pools.  I heard that it took some extra work with the tractor to return things to normal, but he let us do it every time.  Another fond memory of California time is getting to check water with grandpa.  It was a one-on-one time with grandpa that was really special.
In Minnesota, grandpa wore clothes that weren't tan–even if it wasn't Sunday!
 He brought with him a stash of chocolate covered peanuts that he doled out when other adults weren't looking.  
And you were guaranteed at least 2 trips to the "Pie Shop" when grandpa came to visit.  He loved his pie!
These are just a few of my special memories of grandpa.  Thanks for the opportunity to share them. Brenda.
Anyah Lee,
As his granddaughter, hailing from Boston, we would visit
grandpa every 4 years from age 2 –
16.  Napoleon last saw great grandpa John on his 100th birthday. He doesn't remember being just 6 months old when I first brought him out to meet the family. But some years later, when Napoleon was 6 we ate soft served ice cream in the cone.
Visits to Farm
Coming to visit all the cousins, aunts, uncles, grandma and grandpa with my dad was a vivid series of fun and farm adventure for me. I always felt I had a place there. With a tree planted for every cousin, mine a silver dollar that flickered silver coins when the wind blew. We were the youngest on the farm.
Perfectly placed small young fruits hung and sparkled from every branch and blended into the color of the leaves. The farm was full of FRUIT! (Not all ripe apparently…)
I listened to grandpa (most of you got the "privilege" far more),
as we drove through the acres of fruit trees in his dusty pick up. And boy, do I mean dusty! He knew all the things about the trees. I should have memorized all the shapes of the leaves to trap the details
  in my little head. Let's see, I think plums are long and narrow…..
Didn't really care what fruit it was though. I just liked finding one and picking it off the tree at the first most possible edible moment. There is nothing like biting into a crisp peach fresh off the branch…. Or sitting on grandpas lap and hearing a story; while getting offered candy from his candy tin in the house…. I will always remember the curiosity and innocence of those summer days, listening like an eager school child to the teachings and guidance of John Suderman.
Anyah Lee Suderman.
John enjoyed ice cream most any time of the year and so you should set aside your special diet and enjoy some in his memory.   We decided to remember him by having ice cream for you today.  Have some in a bowl with your favorite topping, with bananas and topping or just have some Superior Ice Cream made by Superior Dairies of Hanford.
ENJOY!